Terence Kershaw's impressive steel space frame (top) inaugurated the new sculpture area at the Warrior Square Station forecourt.
Coastal Currents at Ten
The 10th annual Coastal Currents arts festival provided Hastings, Rye and Bexhill with a month of exhibitions, performances, talks and special events. It even gave us a unique take on Lighting Up time. CHRIS BROUGHTON of HOT spoke to Coastal Currents director Penny Precious, and Lorna Crabbe, co-founder of arts organisation Creative Coast who managed this year's festival.
Here, Penny and Lorna talk about the genesis of Coastal Currents and organising the 2009 event, and give a hint of things to come.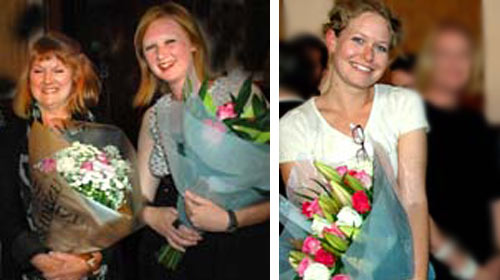 Penny Precious on the left, Sarah Yates and Lorna Crabbe of Creative Coast, at Coastal Currents launch event
Penny: When I first came to Hastings there wasn't a festival of this type at all, and the arts community didn't have much of a profile. I thought a festival might improve that situation and help develop the arts sector generally, which was my role, so I initiated Coastal Currents.
Later on, I added open studios to that programme. Coastal Currents was intended to extend the tourist season as well — by holding it after August, it would keep people coming to Hastings. At the time, there was a lot of focus on the historical aspects of the town —1066 and so on — but less on the contemporary image of the town, no sense that Hastings was a lively, active and creative place.
Lorna: I moved to Hastings just after the 2007 Coastal Currents but I kept hearing about it. Then I took part in the Open Studios last year — I did an exhibition with seven artists from all over the place, but I met so many people locally through doing it.
I had the open studio for two weekends, and almost everyone I know here literally walked into my house. They just came in and we started chatting and we've stayed in touch. Because Hastings is so small, I'd just bump into people in the street the next day.
Penny: In the past, we've focused quite a bit on street art and performance, this year we concentrated very much on the visual arts sector because that's where our strengths are. Also, we've got the Jerwood Gallery coming, so it seemed an ideal time to venture into a wider debate with the visual arts sector in preparation for that.
As a result, I felt we needed people with more of an insight into the visual arts. Creative Coast worked very hard and in a very short time and I'm hoping I can pass the lead on to them next year.
Lorna: The theme of the festival was Hidden Hastings. That's what Sarah and I wanted to do, so that's what we suggested when we put the bid in. We said there'd be a lot of scope to use empty shops and abandoned spaces, just because of the financial climate. Then we were working with (independent curator) Christine Gist, who does a lot of public realm stuff — that's her big interest, and she was very keen to develop that side of things.
Penny: The budget wasn't as big this year. That forced us to be more creative, but 10 years of capacity building have gone into this — every year, more and more artists have got involved, becoming more professional about how they get involved and understanding the opportunities of joining in a festival, opening their studios and putting on their work. In the beginning, it was very difficult to get people involved at all, or to understand what was going on.
Lorna: We tried to provide a festival that's really useful for artists and that arts enthusiasts will be interested in, but it's really important for the council that we attract general visitors and families as well.
We included things that are quite specialist — quite a big programme of talks, for example. But we really had to strike a balance all the way through, and didn't just write a programme that appealed to artists but alienated other people. There were lots of fun events — bike rides and trails and community projects, things which appeal to families.
Penny: The Borough Council is going to be investing quite a bit more money into the arts over the next couple of years, so next year we hope to include some larger events again. Some people have certainly said, "where are the big events?" — we've had some fabulous ones in the past. We will get those going again.
We're now developing a new arts programme which will involve quite a bit of outdoor work on our Stade space. We also have the enclosure at St Leonards — the Borough Council has created a public space at Warrior Square Station for putting public art on. That's our own plinth, if you like, and we're going to be commissioning both local and national artists, and international, if we can, to put work into the space.
Also in: Arts News
«
The Tenth Coastal Currents proved a resounding success
Coastal Currents' Hidden Hastings
»