Piers of the Realm: Hazel and Jay met on the pier at Weston Super Mare two years ago, and decided that before they could get married they had to have a kiss on every pier in the country. Hastings last week was number 52 and they've just got 4 four before they get married on 10.10.10, which apparently in binary numbers spells the meaning of Life. They're egged-on here by our very own Pier and White Rock Trust members.
Pier and Archery Ground:
different campaigns, same idea
Two important campaigns are currently fighting desperate battles for our heritage.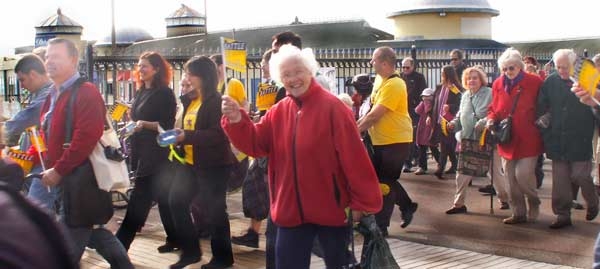 The Hastings Pier and White Rock Trust, after over two years of work to draw up plans and find the funding for a viable and positive future for this unique site, has come up against the buffers of HBC's refusal to co-operate with the Trust's plans by obtaining legal rights to the structure. The Trust is even offering to fund the legal costs of initiating a Compulsory Purchase Order. Nearly 2,000 people marched on 17th October to demand "CPO Now!" But the "do-nothing" powers-that-be have decided to do … nothing.
The next day, over at Save The Archery Ground (STAG), a determined and professional campaign was unwrapped to a packed meeting of over 200 people that left standing room only at the Assembly Rooms. It is being waged after Hastings College sold the Archery Ground in St Leonards to Gladedale Homes, who want to build on this historic site to a density of twice the recommended national figure. Their development (which is at a crucial Planning stage) would include seven blocks of flats, some higher than the 1960s college high-rise eyesore, and denude the beautiful wooded site of all but a handful of its trees.
Both these issues reveal the disparity between on the one side the optimism and creativity of campaigners who have the imagination to see what could be done to make the most of our facilities and environment, and those officers and councillors at HBC who always seem to opt for the dullest, most "can't-do", most passive course of action.
HBC should be the custodians of our heritage. But instead of seeing heritage as an asset, they constantly reduce it to the status of a problem.
Hastings Online Times was set up to celebrate and promote the creativity of Hastings. These two issues alone show the need to focus our efforts, information, networking and mutual support to achieve what this town is capable of.
STAG campaign: there's still time to send in an objection to the Gladedale plans. Though the official date has passed, you can still write in with your views. The next important Planning meeting will be December 9th, and STAG are hoping for a big presence from supporters. Info from www.savethearcheryground.org/ or go straight to the petition at www.ipetitions.com/petition/stag/
PIER campaign: www.hpwrt.co.uk/
Also in: Home Ground
«
CPO Decision at last
Martin Bloomfield reflects on the planning and regeneration process
»