Beyond cod and chips
Living in a seaside town, fish and seafood should rank
high in our daily diet. Now hot off the press is a highly
useful book of fish and seafood recipes offering
numerous mouth-watering ways of serving up our fare
from the sea, writes NICK TERDRE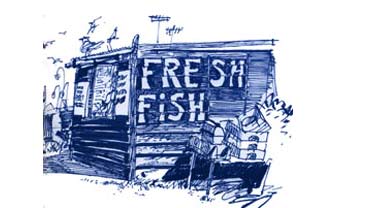 Sally Walton, ably supported by spouse Stewart's Illustrations, book designer Debi Angel, relatives, friends, Hastings fishermen, celebrities and local worthies, has culled more than 50 fish and seafood recipes from local sources.
There are also contributions from leading chefs Tom Aikens, who made a splash at last year's Seafood and Wine Festival, Nick Hales of St Clements Restaurant and food writer Alastair Hendy.
Celebrated seafood chef Rick Stein has also provided a recipe – Marinated Mount's Bay Sardines, which is just one of several dishes in the book that require no cooking.
In fact – and this one of the joys about fish and seafood – many of the recipes are so simple that even a burn-the-toast cook like myself can't go wrong (surely!).
While the fish and seafood can largely be locally sourced, there's nothing parochial about the provenance of the recipes – they come from around the world, including Basque fish stew, Jamaican mackerel, Japanese-style mackerel, Mediterranean squid and cuttlefish tapas.
There is also a handy guide to local suppliers and advice on preparing fish coatings and which oils to use for frying, not to mention suggestions for vegetable accompaniments. All in all, at a mere £5, the book is an absolute bargain.
This is Seasaw Books' first publishing venture, but according to the author there are spare recipes in the stock pot which will be served up at a later date. A toothsome prospect to look forward to!
The Little Hastings Fish Cook Book, by Sally Walton et al, Published by Seasaw Books, 72pp, £5. To order a copy of the book, email sales@seasawbooks.co.uk.
Also in: Food & Drink
«
The Pubs of Hastings & St Leonards